---
---
Voting is one of the most patriotic acts an American can perform; So, do it!
AND...
The responsibility of how a community is actually built, economic development, blueprinting local ordinances, borough budget formulation and other actions that impact residents on a daily basis, often lie in the hands of local council, made up of five councilmembers and a mayor.
This year there are three council positions up for election along with the mayors' position.
Each local office holder makes decisions based on their knowledge and views of a particular issue.  This is what makes voting in a municipal election so important.  These are the people who will make important decisions that will affect your life.
Four candidates will be on ballot for council and there will be no candidates on the ballot for mayor this year.  You must write in the name of the person that you will choose to vote for as mayor, so verify spellings as they must be exact!
Polls will be open November 7th from 7am-8pm at the Eldred Borough Ambulance Building on Platt Street (across from the Fire Hall).                                                          
Eldred Borough Fire Hall will hold Bingo on November 4th increased payouts and new games; doors open at 4:30. November 5th Food Auction- doors open at noon, Nov. 15th $7 Meatloaf dinner 4-6pm – all at the Borough Fire Hall.
Borough office will be closed Nov. 23 and 24.                                               
Thank you,
Mayor Shannon Weikert
---
Be sure to look for our newsletter on the back of your sewer and garbage bill.
---
MAY 22, 2017
ELDRED BOROUGH RESIDENTS ONLY
NO COMMERCIAL GARBAGE
$30.00 FEE MUST BE PREPAID BY MAY 19, 2017 AT THE BOROUGH OFFICE WITH NAME, HOUSE # AND STREET.  NOTHING PICKED UP IF FEE IS NOT PREPAID.
REFUSE MUST BE AT CURB BY 7 AM MONDAY MAY 22nd.  WE WILL PICK UP ONE TIME @ EACH RESIDENCE BEGINNING 7AM MONDAY MAY 22nd , 2017.
A 500 LB. WEIGHT LIMIT, WITH AN ADDITIONAL CHARGE FOR ANYTHING OVER 500 LBS.  A $3.00 ADDITIONAL FEE FOR EACH AUTO TIRE WILL BE CHARGED.  LIMIT 4 TIRES.  NO TRUCK TIRES.
NO COMBINATIONS OF HOUSEHOLDS.  ANYONE CAUGHT OR REPORTED BRINGING TRASH INTO THE BOROUGH WILL BE FINED.
NO BATTERIES, ELECTRONICS, PROPANE TANKS, MOTOR OIL, JUNK-CARS OR PARTS OR HAZARDOUS MATERIALS INCLUDING PAINT ACCEPTED.
BULKY ITEMS MUST BE COMPACTED & TIED.
IF YOU HAVE ANY QUESTIONS, PLEASE CALL THE ELDRED BOROUGH OFFICE @ 225-4777
LET'S KEEP OUR TOWN CLEAN
---
Dear Borough,
 Spring Clean-up is May 22nd.  Registration is required along with a fee of $30 due by May 19th.  Please call to find out about limitations, additional charges or ask any questions that you may have. 
Primary Elections are May 16.  Polls will be open at the Borough Fire Hall on that day.  The following seats are up for election:  Two 4-year Council and one 2-year Council, the Mayor and Tax Collector.
The Borough office will close at 3 pm on May 1, 8 and 10.  The office will be closed all day May 29th.
The monthly work session and Council meeting will be May 16th at 6pm and 7pm. 
Bingo is May 6th warm ups start at 6:00 pm Bingo at 7:00 pm in the Borough Firehall.  Summer Fun Fest on Main Street and Borough Wide Garage Sales will be May 20th.
                                                     Mayor's Report
Residents of Eldred, the borough is actively working on making our tiny town a place where people want to come to visit.  One of our proposed projects is adding a small boat launch and parking lot along the Allegheny River at the Kendall Bridge.  This would allow easy access to the river for tubing and kayaking, whether starting there and floating down river or ending there after starting up river.  With that said, the access road to the proposed launch area would be Sewer Plant Road.  The road, although appropriately named, is not the most appealing name for visitors.  So the council is asking you, the residents, to help rename Sewer Plant Road.  Do you know an outstanding community member that you think should be recognized?  Or a catchy name that you think might be more appropriate?  If so, please let the borough office know!!  You can email us, call us, or mail your idea with your sewer payment.  The borough will post the winning name on our Facebook page!
Have a great May!!
Shannon Weikert, Mayor
---
Dear Borough,
Local Elections, not sure why it matters? Even more than national officials, local leaders regularly make decisions about things that affect our daily lives. Our schools. Our roads. Our tax dollars. Our communities.
Registering to vote is easier than ever, in fact, with just three clicks of your mouse and a few questions answered, you can be ready to cast your vote in the primary elections on May 16th.
Primary elections decide who will be on the ballot in November.
This is very important in local elections because often officials win simply because voters will choose the only name they see on a ballot in November not realizing that they can write in a candidate.
Be sure to let your voice be heard in May.  Write in your candidate if you don't see their name on the primary ballot.  This helps your candidate be a choice in November.  It's your town, your money, practice your right to be heard.
Register at     www.votespa.com   click on "register to vote"
Last day to register is April 17th.
The Borough office will close at 3 pm on April 12, 28 and May 1.  The office will be closed all day April 14th.
The monthly work session and Council meeting will be April 18th at 6pm and 7pm.  May's meeting will also be moved to the third Tuesday of that month.
Bingo is April 1st warm ups start at 6:00 pm Bingo at 7:00 pm in the Borough Firehall. 
---
---
Cleaning Your Basement and Medicine Cabinet
Early Spring Cleaning? Late winter is a great time to clean those corners of your house and dispose of unwanted paint, cleaning supplies, old medications, and other unwanted items.
Unwanted medications can now be dropped off at local police stations including Bradford City, Foster Township,
Old medications, prescription or other, should not be thrown in the garbage or flushed down the toilet. The drug residue can pollute groundwater and travel into streams. Drug residue has shown up in several fish species in parts of Pennsylvania.
Proper disposal of medications is also one important step in preventing abuse and the possibility of drugs falling into the wrong hands.
Household hazardous waste includes a large variety of materials that cannot be disposed of in garbage collections. Unwanted paint, paint remover, chemicals, cleaning supplies, oil, pool chemicals, pesticides, and others can be disposed of at the upcoming collection on April 1st at the McKean County Fairgrounds.
Electronics, batteries, and light bulbs can also be disposed of at this event. There is a small cost per pound which varies by item or material. You must pre-register at   or by calling  
Have questions or need more information? Call Recycling Director Justin Lund at the McKean County Conservation District at 814-887-4001.
ECS&R Press Release
Accepted Items Include
Household Chemicals -

$1.50 / lb

Oil based / latex paint, deck stains, flammable liquids, drain cleaners, pool chemicals, fertilizers, antifreeze, oil, putties, glues, adhesives, wood / metal finishing products, water sealers, household cleaning agents, herbicides, pesticides

Electronic Waste (E-Waste) -

$0.45 / lb All tube / CRT TV's and monitors

Desktop Computers, Laptops, TV's (CRT / Non-CRT) VCR's Phones, Irons, 8 tracks, DVD players, game consoles etc…

 

$0.25 / lb All non-CRT devices

Bulbs

Incandescent, fluorescent, neon, infrared -

$1.47 / lb

Batteries

Car, motorcycle, alkaline (AAA, AA, C, D), button cells -

$1.47 / lb

Small Freon Containing Devices -

$0.52 / lb

 

 
McKean County Event will be hosted at the McKean County Fairgrounds April 1, 2017, 9:00am – 1:00pm
Pre-registration is required for this event – Pricing will be determined upon registration

Visit

http://www.ecsr.net/

or call 814-425-7773

Under Residential Services, click on Collection Registration to register for McKean County event

Enter in all necessary information

ECS&R will accept cash, check, or credit card as payment (payment is due the day of the event after all your items are accounted for)

Pricing for items is listed under McKean County Event

 
McKean County Prescription Drug Drop-off Sites
McKean County Sheriff's Office
Items accepted 8:30am – 4:30pm Monday through Friday.

17013 Route 6, Smethport, PA

814-887-3454
Bradford City P.D.
Bradford Township Office
Items accepted 8:30am – 4:30pm Monday through Friday

136 Hemlock Street, Bradford, PA

814-362-4640
Kane Borough P.D.
These drop-off locations are permanent drop-off sites where you can responsibly dispose of your prescription drugs. These drop-off locations are part of the McKean County Prescription Drug Take Back Program headed by the McKean County District Attorney. 
---
Dear Borough,
Even though calendars may indicate that Spring starts this month, the end of snowfall and cold may be something only folklore can predict.  Here are a few superstitious tales that may help shed some light on exactly when Spring weather will arrive.
Listen for frogs in the Spring and remember "frogs will look through ice, twice" -meaning there will be just two more frosts after the first croaks are heard. According to another wives' tale the snow will end "Three snows after the forsythia bloom."
Officially, on March 20, at exactly 6:29 A.M. EDT Spring will come and legend has it that the vernal equinox is the only day of the year when an egg can be stood on its end.  Then you can try to predict the next coming of winter- "Note on your calendar the first day you hear thunder or see lightning in spring ... count exactly six months ahead and you can predict the first frost or snow."
After you are done trying your hand at predicting the weather, you can check out all of the great things going on in Eldred this month.
St. Raphael Parish Altar-Rosary Society's Annual Soup Supper is March 4th at the Coleman Center 4:30 pm. Bingo is March 4th warm ups start at 6:00 pm Bingo at 7:00 pm in the Borough Firehall.  Poker Tournament at the Legion to benefit the Library March 18th at 2pm.  March 19th join the Knights of Columbus at the Coleman Center on 1st Street for a Pancake Breakfast 9 am- 12 pm. Fire Hall Ham & Turkey Party March 25th at 7:00 pm doors open at 5:30 pm -Please call Robin Mazurkiewicz at 814-225-3789 with questions.
---
                                                   COMMONWEALTH OF PENNSYLVANIA
                                BUREAU OF COMMISSIONS, ELECTIONS AND LEGISLATION
                     2017 PENNSYLVANIA ELECTIONS IMPORTANT DATES TO REMEMBER
First day to circulate and file nomination petitions.........February 14
Last day to circulate and file nomination petitions ..............March 7
First day to circulate and file nomination papers .................March 8
Last day for withdrawal by candidates who filed nomination petitions..............................................................................March 22
Last day to REGISTER before the primary ..........................April 17
Last day to apply for a civilian absentee ballot.......................May 9
Last day for County Board of Elections to receive voted civilian
absentee ballots ..................................................................May 12 MUNICIPAL PRIMARY .......................................................May 16
First day to REGISTER after primary ...................................May 17
Last day for County Board of Elections to receive voted military and overseas absentee ballots (submitted for delivery no later than
11:59 P.M. on May 15) .........................................................May 23
Last day to circulate and file nomination papers .................August 1
Last day for withdrawal by candidates nominated by nomination papers .................................................................................August 8
Last day for withdrawal by candidates nominated at the primary ..............................................................................August 14
Last day to REGISTER before the November election ...October 10
Last day to apply for a civilian absentee ballot for County Boards of Elections to receive voted civilian absentee ballots .......November 3 MUNICIPAL ELECTION ................................................November 7
First day to REGISTER after November election ..........November 8
Last day for County Board of Elections to receive voted military and overseas absentee ballots (submitted for delivery no later than
11:59 P.M. on November 6) ........................................November 14
Note: All dates in this calendar are subject to change without notice.
---
Property Maintenance
Notice
(Insulation is not siding)
---
The Borough Council approved two new ordinances last year focusing on beautifying and freeing the Borough of nuisance. An Ordinance Enforcement Officer was appointed to help correct violations and enforce these ordinances.
This spring, focus will be on siding and the absence of it.  Council understands that it has been many years since having a weather proof and permanent coating on your home has been an enforced requirement in the Borough.  The Borough Council is aware that these kinds of repairs are costly and more time consuming than lawn care. This notice should enable homeowners to save, plan and prepare for any issues that may need to be addressed.
If your home or business does not have a proper weather coating, you will be receiving a violation warning in the spring.  Missing siding, heavily and widespread chipped paint, exposed insulation board or house wrap will all be cause for a warning issuance.
Please keep in mind that this will initially be a warning.  You will be given a specified length of time to make any corrections or show progress towards eliminating a violation; which will lead to an extension on your warning.  If no work is done or progress made towards correcting the problem, you will be issued a ticket.   
---
Please see the list of financial resources listed below to find possible funding for your necessary repairs.
KeystoneHELP- 1-888-906-1293
In partnership with the state of Pennsylvania, Renew Financial offers KeystoneHELP home energy loans to help homeowners.
HUD Property Improvement Loan-visit HUD.gov and search their lender list to apply.
One must apply for a Title 1 loan through a HUD approved lender.  On the HUD webpage, one can find a HUD approved lender using the search tool. 
Consumers can borrow up to $25,000 for improvements to a single-family home. Residents of multi-family units, such as an apartment building, may borrow up to $12,000. The loan can be used to pay for any improvement to the safety, livability, or utility of the property.
USDA-Single Family Housing Repair Loans & Grants in Pennsylvania
Nancy Chavka-1-570-726-3196
Also known as the Section 504 Home Repair program, this provides loans to very-low-income homeowners to repair, improve or modernize their homes or grants to elderly very-low-income homeowners to remove health and safety hazards.
---
Happy New Year.  2017 brings several open positions for election.  There will be seats open for councilperson and a tax collector position. 
The McKean County Elections Office has all of the information for interested candidates.
Location: 
McKean County Courthouse 
Department of Voter Registration and Elections
500 W. Main Street  Smethport, PA 16749
814.887.3203

E-mail: click here 

Dianne Gallegos
Director of Elections 
Phone: 814.887.3236

Click here to visit the Election Office Website.
---
Help Keep the Sidewalks Safe
Eldred Borough Street Employees are always ready to tackle the snow. But making sure people can move about the borough requires more than snow plows. It takes a team effort from all of our property owners, residential and commercial, to clear the sidewalks of snow as well.
After snowstorms, clearing snow helps to ensure the safety and mobility of the community. This especially holds true for senior citizens and persons with disabilities. Uncleared sidewalks pose a real danger and can be life threatening to pedestrians. When the sidewalks are not clear of snow or ice pedestrians may injure themselves on the slick sidewalk or be forced to walk in the roadway with vehicular traffic.
Please shovel your entire sidewalk and keep in mind that wheelchairs need at least 36" to pass. Also, please clear any curb ramps adjacent to your property.

Thank you for doing your part in making our sidewalks safe for all this winter season. It's the right thing to do and it's required by ordinance. Please share with your friends and help us spread the word.
Snow Tips
The Borough reminds you to:
·         Clear your sidewalks of snow and ice within 12 hours following the end of a snow/ice storm.
·         Help your elderly or disabled neighbors remove snow from steps and sidewalks.
·         Please make sure that you shovel safely. Snow is very heavy, especially when wet. Individuals with health problems should err on the side of caution and delegate the task to someone else.
·         Use caution when walking on icy or snow covered sidewalks. Avoid walking in the street.
·         Wear light-colored or reflective clothing when walking at night.
·         When you're driving during inclement weather or following a storm, watch for pedestrians walking in the roadway. Allow extra stopping distance at intersections and crosswalks.
LINK:   Sidewalk Ordinance #222
    Meetings are held the second Tuesday of each month 7 pm at the Borough office 3 Bennett Street.  Work sessions are held directly before the meetings at 6 pm and are also open to the public.

Tax Collector Seat Open
The Elected position of Eldred Borough Real Estate and PC Tax Collector will be up for election 2017.  Check with the McKean County Elections office for details on what you need to do to run for this position if you are interested.
Location: 
McKean County Courthouse 

Address:
Department of Voter Registration and Elections
500 W. Main Street  Smethport, PA 16749

Phone:
814.887.3203

Fax:
814.887.2242

E-mail: 

click here

 

Dianne Gallegos
Director of Elections 
Phone: 814.887.3236

Lisa M.Pratt
Director of Voter Registration
Phone: 814-887-3203
---
get notification form at: www.dep.state.pa.us
Go to: Asbestos
Questions? call (814-332-6940)
---
We are excited to announce that Eldred Borough has been awarded grant money to rebuild the Houben Park restrooms!  Our Borough has been very fortunate to have a grant writer on our council and the repeated generosity of McKean County Housing and Rehabilitation.  Be on the lookout for those construction dates!
Mayor David Gold and council member James McDonald have submitted  letters of resignation.
There is an opening on the Borough Council for a council person and mayor.  Please submit your letter of interest at the Borough office.
Please be advised that sewer line work will move from Elm St. to Edson Street. We will keep you updated on road closings through our Facebook page. 
Trick or Treat will be Monday Oct 31st 5:30-7 pm.  The fire hall will hold a Halloween party to follow at 7 pm.
Revitalized Eldred's scarecrow contest will take place the month of October and their haunted house is expected to be at the fire hall again this year.
Bingo will be the first Saturday in October warm ups start at 6 Bingo at 7 at the Borough fire hall.
---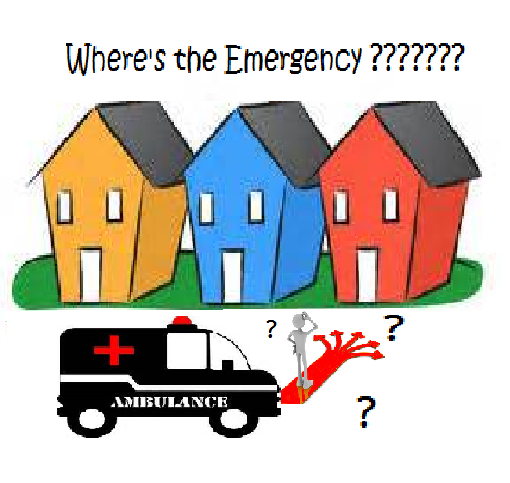 House numbers are not only convenient for finding addresses but necessary for emergency responders to locate those in need. When responding to an emergency, minutes matter so be sure that fire, ambulance, and police personnel can easily and quickly find your address.
In July of 2001,  in accordance with standards required by McKean County Public Safety System 911, and in cooperation with the United States Postal Service, the Borough of Eldred passed an Ordinance requiring Borough residents to display address numbers:
Please see the Ordinance 234 link below for specifics and penalties!
It is recommended that all Borough residents take a few moments to install house numbers or examine existing house numbers. Be sure that the numbers are easily read from the street. Consider the following:
Numbers should be at least 4 inches high and 1 inch wide. 
Use numbers that contrast with the background.
If the house is located more than 200 feet from the street, the numbers should be displayed on a fence, mailbox, or other appropriate place that will make it visible for approaching vehicles.
Be sure that the view of the numbers is not obstructed by shrubs, trees, or decorations, such as flags.
Numbers should be clearly seen when approaching from either side of the house.
If the numbers on your house are not visible or easy to read, it will take emergency personnel longer to reach you. Those extra minutes spent trying to locate a property can mean the difference between life and death, so take the time now to be sure your house numbers are able to be seen from the street to help emergency responders find you faster.
---
 These apply to all residents and home owners within the Borough.  Please take a moment to review them. 

---
---
If you are interested in receiving your garbage and sewer bill via email we are now able to do that.  Contact the Borough office either by phone or in person with your email address.
---
Please make sure to contact the borough to present any improvements, events, or other projects that you are planning to have done on borough property.
Any construction, or use of borough property for events and so on, must be approved by Eldred Borough Council.
---
To file a complaint with the Borough regarding property maintenance or other ordinances, please stop at the Borough Office or call to report.

---