Meetings are held the third Tuesday of each month 7 pm at the Borough office 3 Bennett Street.  Work sessions are held directly before each meeting at 6:30 pm also open to the public.
---
   Water Authority meetings are held in the Borough office at 3 Bennett Street at 7 pm on the third Wednesday of every month and are also open to the public.
December 2018
Happy Holidays Eldred,
The 2018 year is coming to an end.  It's been full of ups and downs this year and Eldred is still a great place to be. 
Our last meeting of the year is expected to take place on December 18th at 7:00 pm in our office.  Please feel free to take part, it is a public meeting as always.
Santa has a few scheduled appearances, with cookies, cocoa, other activities and maybe even some carolers to compliment these spottings.  You won't want to miss these festivities.  Duke Center will have Santa at their pavilion on Dec. 1st at 4:00 pm.  December 8th Unique Creations on Main Street Eldred will have Santa & kids crafts from 2- 6:00 pm, Mrs. Clause will be reading stories at the Library, The Methodist Church will be having a cookie walk and the girl scouts will be offering up some more entertainment.
The Eldred Area Free Library has Eldred themed ornaments for sale as a fundraiser.  They can be purchased a the library on Main Street in Eldred for $15 each or 2 for $25.
Bingo as usual on December 1st at the Eldred Borough Volunteer Fire Hall.  Doors open at 4:30 pm.
                       Merry Christmas & Happy New Year,
Borough Council & Mayor Shannon Weikert
---
In case you are having a bit of trouble focusing on what to be thankful for, borrow something from our list:
Thank you to all who purchased HomeTown Hero Banners.  Main Street Eldred will soon be a grand display of gratitude to all of our Veterans. The site will really reflect the level of patriotism that lives in Eldred.
Thank you to our home town businesses for taking care of their properties and even sprucing some of them up- It really is the "face" of our town.
Thank you to all of the local businesses and residents for repeatedly supporting and promoting our small-town events and volunteers.
Thank you to all of the volunteers who show up in emergencies, funerals and events.  These acts of selflessness help to grow and strengthen our community.
Thank you to our public works department for all of the many hats they wear, especially during the least convenient hours and weather.  They work hard to make sure that the under workings of the Borough run smoothly or even at all.  Snow is coming and with that comes some of the longest, coldest work hours for the men who keep our roads clear and safe.
Thank you to the Borough VFD for holding Bingo on 1st Saturday of every month at the Borough Fire Hall.  It keeps something going on in the neighborhood.
Eldred has so much to be thankful for & We thank you,
Borough Council & Mayor Shannon Weikert
October 2018
Dear Borough Residents,
A scarecrow contest will be held again this year on Main Street.  Call the Borough office for details.
Trick or Treating will be from 6:00 pm- 7:30 pm.
There has been an overwhelming response to the HomeTown Hero Banner program. There is a deadline of November 1st, so if you are interested in purchasing a Veteran banner to be displayed on Main Street, please get an order form from our website, Patti Bell or at the Borough office.
Council is very interested in having qualified people on file that want to serve on Borough Council as openings can and do happen often.  Please stop down and fill out a letter of interest at the borough office.
Eldred Borough Volunteer Fire Department needs volunteers membership applications are available at the Borough Office or online at eldredborovfd.wixsite.com/ebvfd.
Bingo is the 1st Saturday of every month at the Borough Fire Hall.
October 13th is the Annual Craft Show at the Fire Hall from 9 am- 3pm.
Thank you, 
Mayor Shannon Weikert
---
September 2018
Dear Borough Residents,
Interested residents are needed to fill upcoming open council seats.  Borough Council members must be residents of the Borough for one year.  Filling a vacancy is done at a council meeting by existing members appointing a candidate to fill the empty seat until the next election.  A councilmember is a person who helps make decisions pertaining to the borough by-laws and how tax payers' dollars will be spent.  A member of council represents fellow residents and their opinions. 
If you feel that you are qualified to fill an open position on Council, please stop by the Borough office to fill out an interest form.
The HomeTown Hero Banner program has a deadline of November 1st.  If you are interested in purchasing a Veteran banner to be displayed on Main Street, please get an order form from our website, Patti Bell or the Borough office.
YOUR FIRE DEPARTMENT NEEDS YOU
To help, fill out a membership application, available at the Borough Office or online at eldredborovfd.wixsite.com/ebvfd and return it ASAP.
You can also like and share EBVFD on Facebook; search "itsyourvfd" on Facebook.
October 13th Craft Show at the Fire Hall from 9 am- 3pm....vendors needed!  Call Jodi Stone 225-3369.
Thank you,
Mayor Shannon Weikert
Eldred Borough Council would like to invite fellow borough residents and all others interested to read our public meeting minutes on our website at www.eldredborough.jimdo.com.  The Council established this website in 2015 to increase transparency and public involvement.
All regularly scheduled, special and work session meetings are public and advertised in the Bradford Era.  They are currently held at the borough office, 3 Bennett Street, in Eldred, on the Third Tuesday at 7:00 pm.
You can also keep informed by following us on Facebook at "Eldred Borough" and turning your sewer bill over to read our monthly newsletter.  The Newsletter was also implemented in 2015 by Council in an effort to keep busy residents not able to attend meetings up to date on borough business.
The Council wishes to inform residents of some of the recent internal changes that have occurred.  Although transparency and community communications have been a focus over the last three years, internal reporting procedures have needed many updates.
Council has been working with a forensic auditor, solicitor, and new staff to ensure that updates are put in place.
It is important to Council that all procedures, both internal and external are transparent, efficiently reported, and up to the current standards as set forth by PA Code. 

Eldred Borough
P.O. Box 270
3 Bennett Street
Eldred, Pa 16731
814-225-4777 P
Eldred Borough office will be offering extended hours starting Monday July 23, 2018.  The new hours of operation will be Monday- Friday 8 am to 5 pm.
Patti Bell is offering a Hometown Hero Banner program.  Banners will be printed and hung on Main Street in Eldred Borough.  Picture shown is just an example, for complete details contact Patti Bell at 225-4427.  You may pick up an application at the Borough office Monday through Friday 8 am- 5 pm.  Each banner is $175.  Deadline for inclusion is November 1, 2018.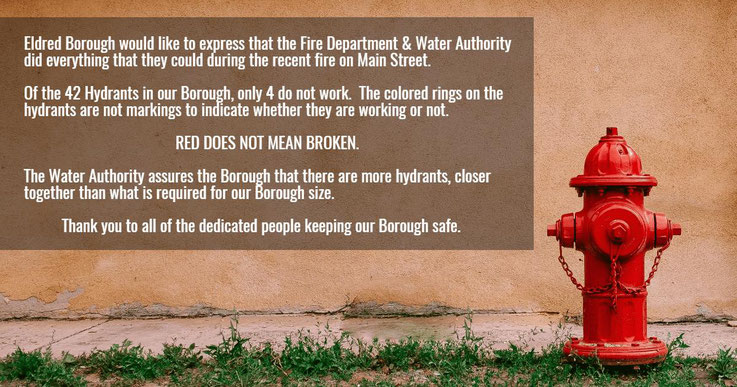 The markings on the hydrants allow for the fire departments to know the gallons per second each hydrant is capable of.  
for more information follow the link below:
Do not feed the cats
This action conditions them to stay as it is easier to obtain food. Secure garbage in proper disposal bins with lids shut tight.
Eliminate potential homes and make it hard to dig
 If they are unable to find a suitable place, they will move on.  Keep openings closed and sealed off in your buildings.
Use ammonia
Cats use gardens or soft dirt as litter boxes so apply a solution consisting of one part Ammonia and one part water. Place it in a shallow dish in these areas. You can also spray this in areas where cats frequent. 
Apply pepper or pepper spray around the area
This bothers cats by giving them spicy paws. Apply these wherever you see the cats- under your porch, at the back of you patio, or in your shed.
Use traps
You can contact the SPCA for information on obtaining traps and the steps to follow after trapping feral cats.
McKean County SPCA  1-814-362-8850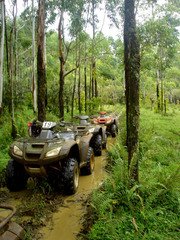 Eldred Borough does allow for the usage of REGISTERED UTV and ATVs in the Borough limits WITH REGULATIONS. 
All applicable laws must be followed.  Speed limits, road rules, safety rules such as helmet use, private property permissions and the like MUST BE ADHERED TO.  
This privilege is at risk of being rescinded.
Recent illegal and dis-respective activity may affect the allowance of these vehicles on Borough roads.
---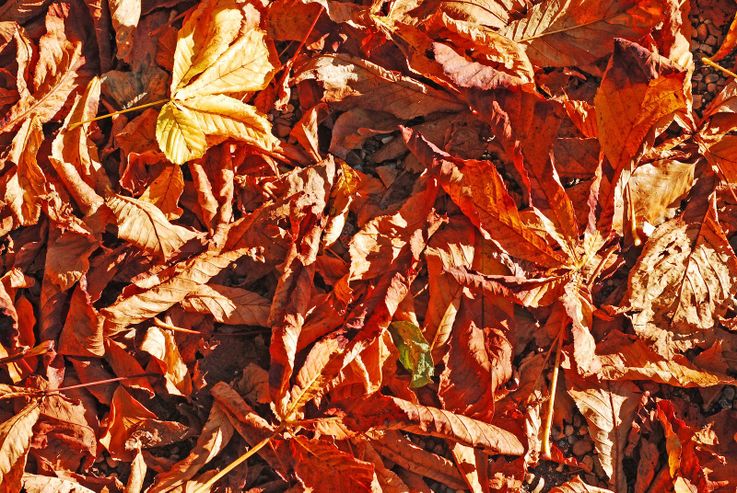 Did you know that the Borough of Eldred provides a dumping area for your grass clippings, small shrubs, branches under 6" and leaves?
The area is behind the sewer plant on Kendall Bridge Rd. (previously Sewer Plant Rd.)
 ONLY THE ITEMS LISTED ABOVE ARE ALLOWED TO BE DUMPED!
Anyone caught dumping items other than what is listed above will face penalties.
This area is a lovely convenience that the Borough provides to our residents.  Ongoing abuse will cause the closure of this area to the public.
Dear Borough,
The Council wishes you all a safe and happy Independence Day.
Eldred Borough is always happy to support projects that show stewardship and patriotism.  To express your gratitude to a hometown veteran, you may purchase a banner to be displayed on Main Street through Patti Bell and the Borough office.  Stop by the Borough office to get more information.
This month we have a few reminders to help keep our Borough clean, sanitary and safe:
Feral animals are not pets; They spread diseases and parasites such as fleas and ticks to other pets or even children and can cause costly damage to property.
Do not feed the cats.  Do not leave pet food out in open areas that cats can reach. Secure garbage in proper disposal bins with lids shut tight to ensure the cats cannot go through what they can find.
Eliminate potential homes.  Put a fence on your deck or porch, and keep openings closed and sealed off.
You can find more information on our website to help deter and eliminate feral animals from your property.
Please remember that the usage of Borough streets for access to ATV trails by ATVs and UTVs is a privilege that the Borough must reconsider if the ordinance is continuously violated.
Lastly, a brush pile is provided to residents behind the sewer plant.  Do not sweep clippings into the street.  The brush pile is for landscaping waste only and dumping anything not listed on the sign at the drop off point will be grounds for penalties.
Old Home Days will be July 27th-29th.  Join the Borough Fire Department for Bingo at Old Home Days on the 28th.
The Borough office will be closed on the 4th of July and re-open on the 5th.
Dear Borough,
Spring has finally sprung in Eldred and the town is buzzing with signs of the season.  The Borough has kicked off spring with the installation of a few new sewer lines on Platt and Edson Streets, thanks to a Community Development Block Grant from DCED with the help of McKean County Redevelopment and Housing.
The Ordinance Enforcement Officer will be out enforcing the Property Maintenance Ordinance.  Besides having grass & weeds over 8", common violations include: feral animal harborage, accumulation of hazards such as rubbish and junk, junk vehicle storage and buildings or structures with holes or non-weatherized coatings (siding or exterior paint).
Borough wide Spring Clean Up will be MAY 21, 2018.  The $30.00 fee (tires additional) must be paid by May 18th to the Borough office – Please include your name & the address for pick up. 
The VFW will present a parade on Memorial Day Starting at 11 am with a speaker to follow at the elementary school.
Eldred Borough Fire Hall will hold Bingo on May 5, doors open at 4:30. The Borough Office will be closed in observance of Memorial Day on May 28th.
June 16th will be Eldred Garage Sale Day.  A map is in progress.  To be included, contact the Borough Office.
Visit the Eldred Area Free Library to git yer pre-sale tickets fer their "Hometown Downtown Hoe-down" on June 23 at 5pm in the Eldred Supermarket parking lot.  (watch for signs around town filling you in on this boot scootin' good time)   
Revitalize Eldred is looking for artists, vendors and crafters of handmade goods to take part in June 16th's Summer Fun Fest.  Contact Lisa at 331-3301 for information.                                                                         
---
MAY 21, 2018
*ELDRED BOROUGH RESIDENTS
*NO COMMERCIAL GARBAGE
$30.00 FEE MUST BE PAID BY MAY 18, 2018 AT THE BOROUGH OFFICE WITH NAME, HOUSE # AND STREET.
(prepayment of fee is required for pickup)
REFUSE MUST BE AT CURB BY 7 AM MONDAY MAY 21 .  WE WILL PICK UP ONE TIME @ EACH RESIDENCE BEGINNING 7AM MONDAY MAY 21nd, 2018.
A 500 LB. WEIGHT LIMIT, WITH AN ADDITIONAL CHARGE FOR ANYTHING OVER 500 LBS.  A $3.00 ADDITIONAL FEE FOR EACH AUTO TIRE WILL BE CHARGED.  LIMIT 4 TIRES.  NO TRUCK TIRES.
NO COMBINATIONS OF HOUSEHOLDS.  ANYONE CAUGHT OR REPORTED BRINGING TRASH INTO THE BOROUGH WILL BE FINED.
NO BATTERIES, ELECTRONICS, PROPANE TANKS, MOTOR OIL, JUNK-CARS OR PARTS OR HAZARDOUS MATERIALS INCLUDING PAINT ACCEPTED.
BULKY ITEMS MUST BE COMPACTED & TIED.
IF YOU HAVE ANY QUESTIONS, PLEASE CALL THE ELDRED BOROUGH OFFICE @ 225-4777
A CLEAN TOWN IS A HAPPY TOWN!
McKean County Collection Event
        Sat, April 28, 2018 9AM-1 PM
McKean County Fairgrounds, 7172 Route 46, Smethport, PA 16749
                           Pre-Registration is Required
                Register online at www.ecsr.net,                     visit our Facebook page, or call                       McKean County Conservation
               District:  814-887-4017
Acceptable Electronics:
    Computers, televisions, printers, microwaves, stereos, copiers, fax machines, cell phones, dvd players, gaming systems, etc.....
Acceptable Household Hazardous Waste
     Household cleaning products, oil / latex based paint, wood / metal cleaners and polish, stains / finishes, batteries, light bulbs, fuel additives, pool chemicals, antifreeze, aerosols, herbicides, pesticides, motor oil (must be in a closed container) bug sprays, etc. .....
                   Costs per Item                      
Household Hazardous Waste: $1.60/lb.
All tube / CRT TV's & Monitors: $0.55/lb.                                                       
Universal Waste: $1.60/Ib.
All non-CRT Devices: $0.35/lb.                             
 Mercury Containing Devices: $6.35/lb.
Small Freon containing devices: $0.63/lb
A full gallon of paint weighs approximately 12 pounds
The Collection Is Brought To You By:
  ECSR
 McKean County Conservation PA CleanWays of
McKean County, & McKean County Fairgrounds 
MCKEAN COUNTY
       CONSERVATION                      DISTRICT
---
Police Officer,
The Otto-Eldred Regional Police Department is accepting applications for Part-Time Police Officers. Retired law enforcement officers are also encouraged to apply. Applicants must pass a background check and qualify with a department approved firearm. Any and all current certifications will be taken into consideration for hire.
Requirements include:
• United States citizenship
• Valid Pennsylvania driver's license
• Minimum 21 years of age
• High school diploma or equivalent
• CPR and First Aid certification
• Act 120 certification including MPOETC certification
Starting Wage: $11.00
Hours: Days Lights. Applicants must be available to work 10-20 hours bi weekly.
Applications can be picked up at or contact Police Department:
Eldred Borough Municipal Office
3 Bennett Street
Eldred, PA 16731
814-225-4777 Office Number
814-558-4415 Police Department
---
Dear Borough,
     March 21st is officially designated as National Rosie the Riveter Day.  As you may know Eldred was home to it's share of Rosies during WWII.  Visit the Eldred World War II Museum to learn all about it!
115TH CONGRESS 1ST SESSION S. RES. 76
Expressing support for the designation of March 21, 2017, as ''National Rosie the Riveter Day''.
IN THE SENATE OF THE UNITED STATES MARCH 1, 2017 the Committee on the Judiciary MARCH 15, 2017 Committee discharged; considered and agreed to
RESOLUTION Expressing support for the designation of March 21, 2017, as ''National Rosie the Riveter Day''.
Whereas National Rosie the Riveter Day is a collective national effort to raise awareness of the 16,000,000 women who worked during World War II; Whereas the people of the United States have chosen to honor women workers who contributed from the home front during World War II; Whereas those women left their homes to work or volunteer full-time in factories, farms, shipyards, airplane factories, banks, and other institutions in support of the Armed Forces overseas;
Whereas those women worked with the United Service Organizations and the American Red Cross, drove trucks, riveted airplane parts, collected critical materials, rolled bandages, and served on rationing boards; Whereas it is fitting and proper to recognize and preserve the history and legacy of working women, including volunteer women, during World War II to promote cooperation and fellowship among those women and their descendants; Whereas those women and their descendants wish to further the advancement of patriotic ideas, excellence in the workplace, and loyalty to the United States; and Whereas March 21, 2017, during Women's History Month, is an appropriate day to designate as ''National Rosie the Riveter Day'':
Now, therefore, be it Resolved,
That the Senate— 1 (1) supports the designation of March 21, 2 2017, as ''National Rosie the Riveter Day''; and 3 (2) acknowledges the important role played by 4 women during World War II.
Eldred Borough Fire Hall will hold Bingo on March 3rd, doors open at 4:30- A Food Auction on the 10th at 1 and a Ham and Turkey Party on the 24th at 7pm.                                                                             
---
Happy new year, we hope that you had a fantastic holiday season.  This year we have a few changes in the Borough.  The Borough meeting this January is on the 2nd at 7pm as it is a reorganizational meeting and a date mandated by the Borough Code.  Meetings will continue on the third Tuesday of the month for February on.  We welcome Charles Lasher to the Council, we also say good bye and thank you to Billy Bair Jr. for years of dedicated service. We also welcome Shannon Brown as Tax Collector. 
There has been no raise in taxes this year, but there will be a $2.00 increase to sewer bills.  This will change the monthly charge from $37 to $39 for sewer.  Garbage will see no increase, charges will remain at $17 per month.
The Borough Office will be closed on Monday January 1st. 
Eldred Borough Fire Hall will hold Bingo on January 6th, doors open at 4:30.
---
We wish you the happiest of holidays and would like to remind you this year to check out what all of our local businesses have to offer as you finish up your holiday shopping.  
We also suggest wrapping up a dog license for your pup, as it is time to renew any dog licenses in PA.
All dogs three months or older must be licensed by Jan. 1 of each year. Violators can be cited with a maximum fine of $300 per violation plus court costs.
An annual license is $8.50 and a lifetime license is $51.50. If the animal is spayed or neutered, the annual fee is $6.50 and lifetime is $31.50. Discounts are available to older adults and people with disabilities. The small license fee helps the millions of dogs in the state by funding the Pennsylvania Department of Agriculture Bureau of Dog Law Enforcement.
If your dog gets lost, a current license is the fastest way to get him back. 
Contact Ms. Mary Jo Sherwood, Treasurer, McKean County Courthouse, 500 W. Main Street, Smethport, PA 16749 Phone: (814) 887-3220, or to purchase online go to www.mckeancountypa.org then Other Elected Officials then Dog license.  
This year's Christmas parade will be December 14th at 6:30, there will be tractor rides with Santa and tons of lights to look at- thank you to Eldred area businesses for your participation!                                                             
Eldred Borough Fire Hall will hold Bingo on December 2nd bring a friend and get a free thank you special; Christmas hams as door prizes, doors open at 4:30 at the Borough Fire Hall. 
Borough office will be closed December 25th and 26th.                                               
---
Be sure to look for our newsletter on the back of your sewer and garbage bill.
---
Help Keep the Sidewalks Safe
Eldred Borough Street Employees are always ready to tackle the snow. But making sure people can move about the borough requires more than snow plows. It takes a team effort from all of our property owners, residential and commercial, to clear the sidewalks of snow as well.
After snowstorms, clearing snow helps to ensure the safety and mobility of the community. This especially holds true for senior citizens and persons with disabilities. Uncleared sidewalks pose a real danger and can be life threatening to pedestrians. When the sidewalks are not clear of snow or ice pedestrians may injure themselves on the slick sidewalk or be forced to walk in the roadway with vehicular traffic.
Please shovel your entire sidewalk and keep in mind that wheelchairs need at least 36" to pass. Also, please clear any curb ramps adjacent to your property.

Thank you for doing your part in making our sidewalks safe for all this winter season. It's the right thing to do and it's required by ordinance. Please share with your friends and help us spread the word.
Snow Tips
The Borough reminds you to:
·         Clear your sidewalks of snow and ice within 12 hours following the end of a snow/ice storm.
·         Help your elderly or disabled neighbors remove snow from steps and sidewalks.
·         Please make sure that you shovel safely. Snow is very heavy, especially when wet. Individuals with health problems should err on the side of caution and delegate the task to someone else.
·         Use caution when walking on icy or snow covered sidewalks. Avoid walking in the street.
·         Wear light-colored or reflective clothing when walking at night.
·         When you're driving during inclement weather or following a storm, watch for pedestrians walking in the roadway. Allow extra stopping distance at intersections and crosswalks.
LINK:   Sidewalk Ordinance #222
Property Maintenance
Notice
(Insulation is not siding)
---
The Borough Council approved two new ordinances last year focusing on beautifying and freeing the Borough of nuisance. An Ordinance Enforcement Officer was appointed to help correct violations and enforce these ordinances.
This spring, focus will be on siding and the absence of it.  Council understands that it has been many years since having a weather proof and permanent coating on your home has been an enforced requirement in the Borough.  The Borough Council is aware that these kinds of repairs are costly and more time consuming than lawn care. This notice should enable homeowners to save, plan and prepare for any issues that may need to be addressed.
If your home or business does not have a proper weather coating, you will be receiving a violation warning in the spring.  Missing siding, heavily and widespread chipped paint, exposed insulation board or house wrap will all be cause for a warning issuance.
Please keep in mind that this will initially be a warning.  You will be given a specified length of time to make any corrections or show progress towards eliminating a violation; which will lead to an extension on your warning.  If no work is done or progress made towards correcting the problem, you will be issued a ticket.   
---
Please see the list of financial resources listed below to find possible funding for your necessary repairs.
KeystoneHELP- 1-888-906-1293
In partnership with the state of Pennsylvania, Renew Financial offers KeystoneHELP home energy loans to help homeowners.
HUD Property Improvement Loan-visit HUD.gov and search their lender list to apply.
One must apply for a Title 1 loan through a HUD approved lender.  On the HUD webpage, one can find a HUD approved lender using the search tool. 
Consumers can borrow up to $25,000 for improvements to a single-family home. Residents of multi-family units, such as an apartment building, may borrow up to $12,000. The loan can be used to pay for any improvement to the safety, livability, or utility of the property.
USDA-Single Family Housing Repair Loans & Grants in Pennsylvania
Nancy Chavka-1-570-726-3196
Also known as the Section 504 Home Repair program, this provides loans to very-low-income homeowners to repair, improve or modernize their homes or grants to elderly very-low-income homeowners to remove health and safety hazards.
---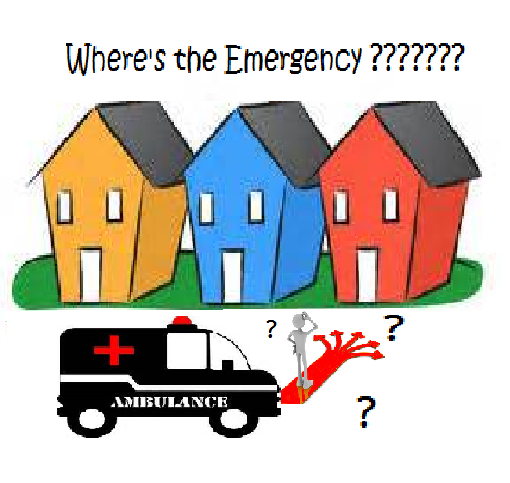 House numbers are not only convenient for finding addresses but necessary for emergency responders to locate those in need. When responding to an emergency, minutes matter so be sure that fire, ambulance, and police personnel can easily and quickly find your address.
In July of 2001,  in accordance with standards required by McKean County Public Safety System 911, and in cooperation with the United States Postal Service, the Borough of Eldred passed an Ordinance requiring Borough residents to display address numbers:
Please see the Ordinance 234 link below for specifics and penalties!
It is recommended that all Borough residents take a few moments to install house numbers or examine existing house numbers. Be sure that the numbers are easily read from the street. Consider the following:
Numbers should be at least 4 inches high and 1 inch wide. 
Use numbers that contrast with the background.
If the house is located more than 200 feet from the street, the numbers should be displayed on a fence, mailbox, or other appropriate place that will make it visible for approaching vehicles.
Be sure that the view of the numbers is not obstructed by shrubs, trees, or decorations, such as flags.
Numbers should be clearly seen when approaching from either side of the house.
If the numbers on your house are not visible or easy to read, it will take emergency personnel longer to reach you. Those extra minutes spent trying to locate a property can mean the difference between life and death, so take the time now to be sure your house numbers are able to be seen from the street to help emergency responders find you faster.
---
If you are interested in receiving your garbage and sewer bill via email we are now able to do that.  Contact the Borough office either by phone or in person with your email address.
---
Please make sure to contact the borough to present any improvements, events, or other projects that you are planning to have done on borough property.
Any construction, or use of borough property for events and so on, must be approved by Eldred Borough Council.
---
To file a complaint with the Borough regarding property maintenance or other ordinances, please stop at the Borough Office or call to report.

---